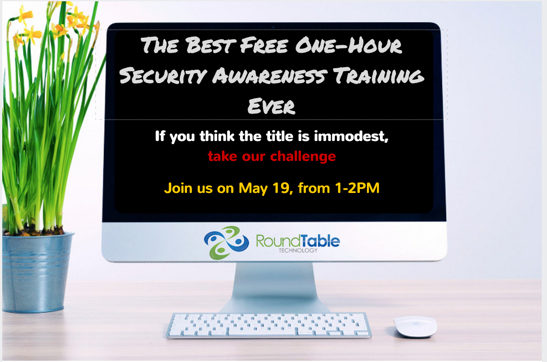 When: This webinar has already occurred. If you would like to view the recording and get the materials, enter your email address below for access.
Description:
I want to let you know about RoundTable Technology's upcoming webinar, "The Best Free One-Hour Security Awareness Training Ever" on Thursday, May 19th at 1:00 PM.
If you think our title is immodest, RoundTable challenges you to attend the webinar on May 19th and tell us if you have attended a better security webinar.
In all seriousness, this webinar will be fun and provide a much-needed public service. Go ahead and invite all the staff from your organization to attend. The more the merrier and, more importantly, safer.
Among the topics RoundTable will be covering are:
Security Culture
Social Engineering
Email Safety
Internet Safety
Passwords
Mobile
Phishing
Working From Home
Travel
Identity Theft
If you can't attend the webinar, but are interested in the content, register anyway and we will send you a recording.
Who: