What do you do at our company?
I am the Customer Success Manager for Support Services.
My roles have changed dynamically through the years, but they've all had one thing in common - customer service - delivering great customer service is paramount to me. It's not something you do once and never have to do again. It doesn't get boring (I love working with our clients), and requires constant engagement and improvement.
These days, I'm an escalation point for the Support Team and other RoundTablers. If they are stuck on a specific request or a client needs something expedited, I assist with identifying next steps and finding a resolution as quickly as possible. (Sometimes, I sneak a ticket and do it myself just so I can talk to our clients...don't tell anyone!) If clients have any suggestions that will help us improve our service, I'll be listening and working to bring those improvements to fruition. I also manage our support tools; I'm always looking for ways to customize those tools so we can work more efficiently and provide better service.
What are the biggest misconceptions of your role, internally or externally?
That I'll have the answer. I don't always have the answer, but I always know where to find it.
What motivates you to wake up and go to work?
Our clients and my co-workers. Many of our clients do heroic work for their communities - their work humbles me and it's a privilege to help them succeed in that work. My co-workers are always willing to share information and help each other at every turn. We work VERY hard, but we also make sure we have fun doing it.
What's something most people don't know about you?
I'm a VERY good hockey player. Like...VERY good.
What are one or two hobbies you enjoy?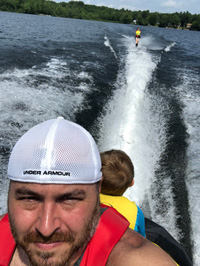 I enjoy playing online games with/against other people - I love the social and competitive aspect of it. I'm also a bit of a home theater enthusiast.
I love the water and all the sports that come with it. For much of my life, I've been fortunate enough to build great memories at our camp. These days, it brings me joy to build those same memories for my children and their friends. When I'm not at work, you'll often find me fishing with or pulling the kids on tubes and water skis when the sun is out.
Tell us two truths and one lie about yourself.
I stand on the shoulders of giants (figuratively).
I do NOT encourage my friends and family to boycott sweet potatoes.
9 months of my year is spent waiting for summer to arrive.
What tools or apps are most important to your job?
Our ticket management system
Remote Access tool
Slack
Our documentation system
Without those four things, we wouldn't be able to manage and resolve the thousands of requests we get each month at such a high level of efficiency and satisfaction.
Do you prefer in-person or troubleshooting from afar?
I love in-person interaction, but I prefer troubleshooting from afar. If I have good remote access, it allows me to reach more people during the day. When I'm finished helping someone, I can get to the next person quickly without any travel time.
What is currently on your desk?
A laptop and three external monitors - I have four monitors and I love it. A wireless keyboard with the little solar panels on it so it can recharge itself, USB mouse, USB headset, USB hub, and a wireless USB iPhone charger with my iPhone on it - everything is USB/wired because I abhor replacing batteries. A special coffee mug that my wife bought me for Christmas. A 25' tape measure? I have kids...things just appear sometimes.
How did you start your career in IT?
1998 - I took a Microsoft Office '97 class at the University of Maine and bought a used computer ($150) to teach myself how to tear it down and rebuild it. Later that year, I got a full-time job doing help desk support. That's where I met Evan and Jeff, who are both RoundTablers today!
What are the biggest challenges in your work?
Getting to everyone quickly enough. Every once in a while, a major software company releases a patch that causes issues on millions of computers worldwide. Many of our clients' machines might be affected and we'll have a mountain of requests. It's a tough situation and makes me cringe when it happens, but the team always works together, shifts into overdrive, and gets to our clients as fast as possible.
What was your proudest professional moment?
I believe in smaller, daily successes, rather than one massive success. I guess my favorite moments are finding out that I had a positive impact on someone's day.