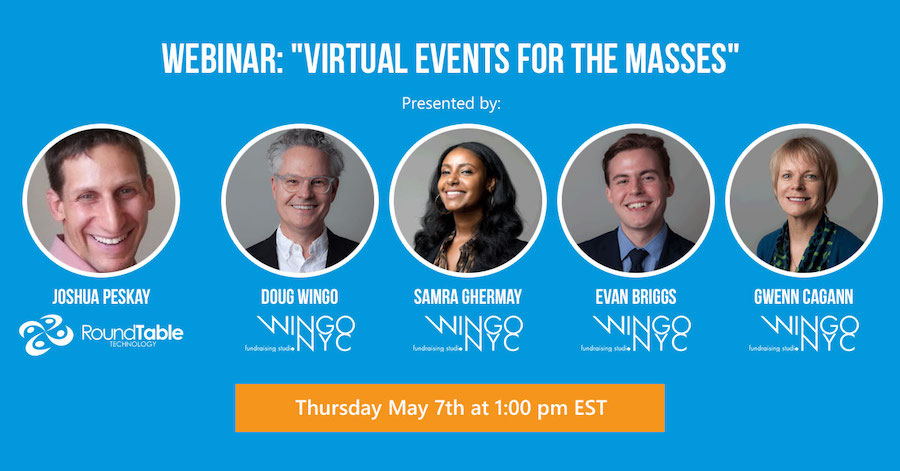 WHAT: Webinar
When: Thurs May 7th
Description:
RoundTable is excited to present a webinar from our friends and fundraising experts at Wingo NYC.
Virtual events have quickly become necessary communication and fundraising tools for nonprofits. In this interactive webinar, you'll get up to speed on best practices to plan and implement an event for your organization. Whether you're taking your gala virtual, holding a town hall to update supporters or gathering a group of major donors, you will learn from experts about the opportunities that virtual events create for nonprofits. You'll also learn the nuts and bolts of how to choose a platform, strategies to design a compelling program, requirements for staffing the technical backend and how to turn your virtual event into a fundraising success.
Wingo NYC is a fundraising and design consulting firm for social, cultural and environmental change. We specialize in building individual and major giving for nonprofits through large and small events, including virtual events. Our clients have a variety of important missions and work across the U.S. and around the world. Find out more at wingo.nyc.
Presenters:
Presenters from Wingo NYC include:
Doug Wingo, Founder + Principal
Gwenn Cagann, Director of Special Events
Evan Briggs and Samra Ghermay, Project Managers
Hosted by Joshua Peskay of RoundTable
Who: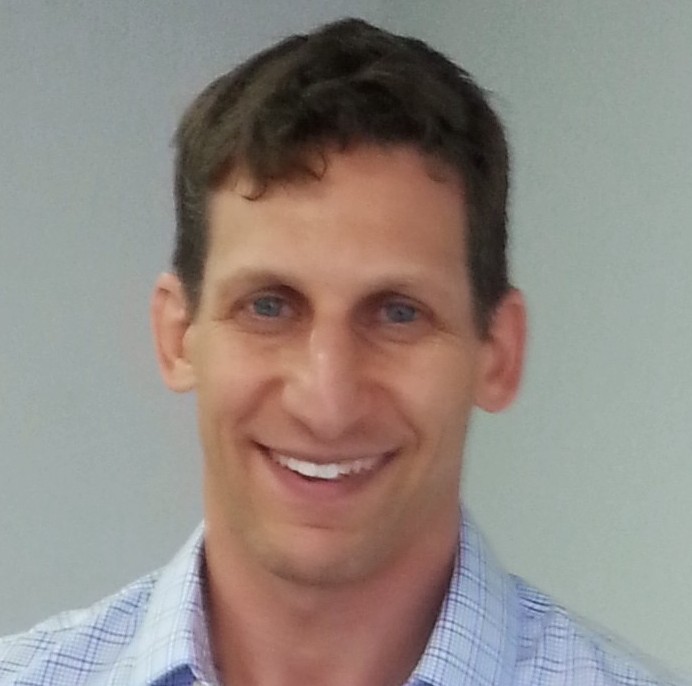 Joshua Peskay is the Vice President of Technology Strategy at RoundTable Technology and an accomplished technology leader with more than two decades of experience leading technology change for over a thousand New York City nonprofit organizations. Joshua has a proven track-record for ​planning, implementing and supporting a wide range of successful technology solutions for nonprofits. Joshua is committed to helping organizations sort through the rapid pace of technological change to select the best products and services available and use them effectively.
Joshua is a dynamic and engaging public speaker and teacher, teaching topics such as Technology Strategy, Cybersecurity and Project Management. Joshua is an Expert Trainer for Idealware, and is faculty for the Nonprofit Technology Network (NTEN). Joshua has also partnered with Whole Whale on a Cybersecurity course for the online learning platform, Udemy and teaches Cybersecurity at Civic Hall in New York City.
In recent years, Joshua has been focusing on cybersecurity in the nonprofit sector, working with at-risk organizations to address digital security challenges and providing cybersecurity training and awareness programs to thousands of nonprofit personnel.
If you would like to speak with Joshua, you can book a time with him here.
Or contact Joshua via:
Email [email protected]
Signal +1 917 747 1154
Public PGP Key