"Winter is coming and your (fire)wall will not protect you.
Cybersecurity for 2021 and beyond"
September 29, 2020
Live Webinar - 1 - 2pm EST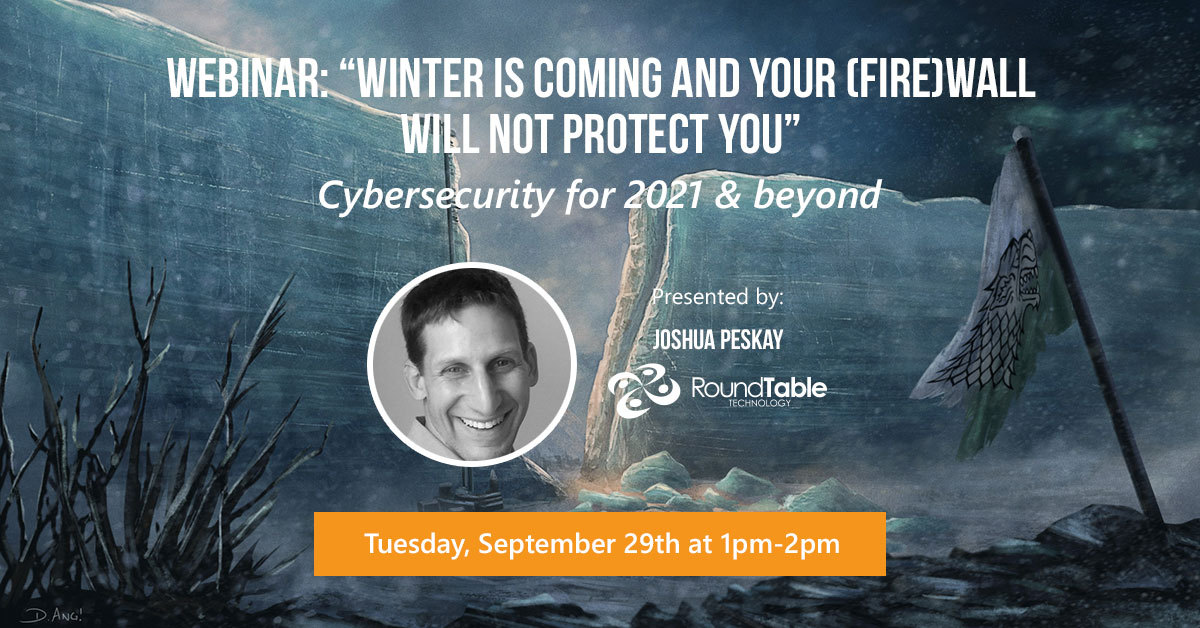 During This Webinar You'll Discover:
The rapidly changing threat landscape and how cyber criminals and even nation states are targeting organizations like yours.
How a lack of protection exposes you to breaches, litigation, disruption and having confidential company information stolen, exposed and held for ransom.
The #1 security threat to your business that anti-virus, firewalls and other security protocols are defenseless against.
Why firewalls and anti-virus software give you a false sense of security – and what it REALLY takes to protect your organization against new threats and today's sophisticated cybercrime and nation state attacks.
Who Should Attend?
Executive Leadership IT Directors, Finance Officers and Managers who are concerned about: lost or stolen devices, privacy of confidential information, employment litigation introduced when employees use personal devices to access company data and State and Federal laws that carry heavy fines for lost or stolen data. This is of particular importance for those organizations that handle ANY sensitive data such as credit card and financial information, medical records (or serve clients who have medical records) or who simply want to avoid having their bank account wiped out due to a cyber-attack.
A Quality IT Provider
RoundTable provides a solution-focused approach to IT. In addition to being a quality IT provider, RoundTable provides training to our staff on areas such as cybersecurity awareness, project management and more.
— Alex Havriliak, Chief Financial Officer, Habitat for Humanity
I Learned So Much From RoundTable's Cybersecurity Webinar
I was a phishing victim last year and it did not feel good at all. This training helped me feel more empowered, more confident in spotting (phishy) situations, and ready to navigate the digital landscape with safety and security.
— Anonymous
Exceeded Expectations
Our cybersecurity awareness assessment project exceeded expectations. Joshua was super knowledgeable, understood our issue areas and the risks and constraints we face.
— Teresa Huang, Operations Manager, Represent Us
Register By Completing The Form Below:
Important! We hate spam as much (or more!) than you and promise to NEVER rent, share, or abuse your e-mail address and contact information in any way.
Meet Your Presenter:
Joshua Peskay

"Joshua Peskay is the Vice President of Technology Strategy at RoundTable Technology and an accomplished technology leader with more than two decades of experience leading technology change for over a thousand New York City nonprofit organizations....read more"