Webinar:
"Scary Stories with RoundTable - How TableTop Exercises can Help Keep the CyberMonsters Away"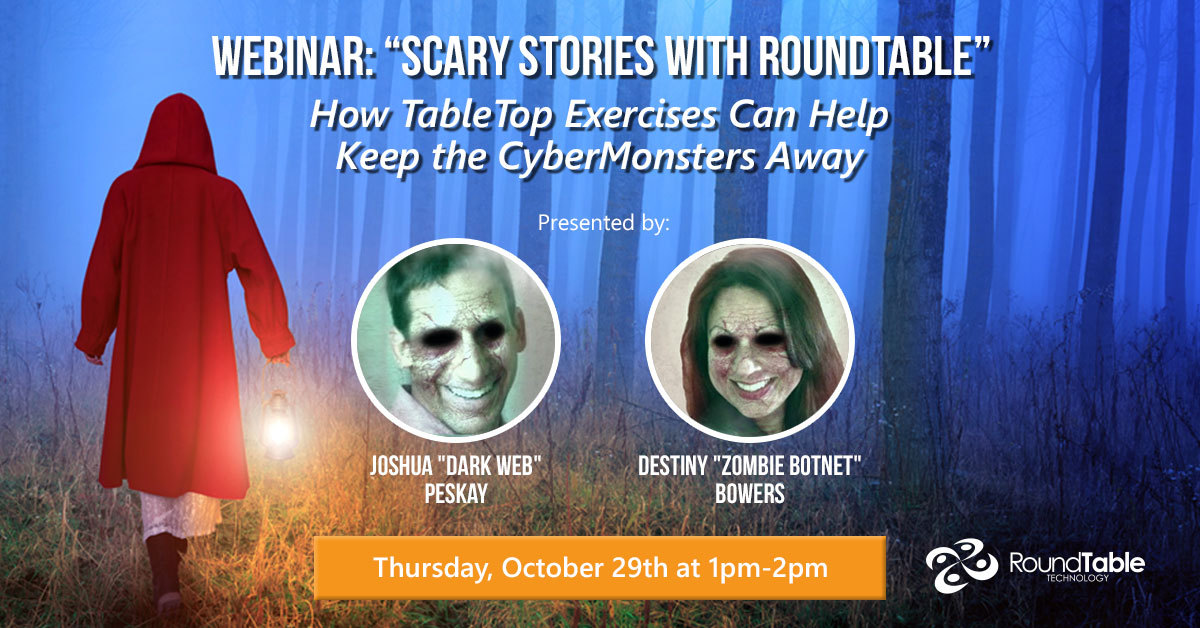 Webinar Details:
LIVE: October 29, 2020
Start Time: 1:00pm - 2:00pm EST
Cybercrime is something that happens to somebody else -- right up until it happens to your organization. TableTops are an effective way to understand the impact that different types of cyber threats can have on your organization and constituents and give you clear steps to reduce the likelihood and impact of cybercrime.
During the webinar you'll see two different demonstrations of TableTop exercises performed live. In addition, you will learn:
What TableTop exercises are, how to conduct them, and why they help
How TableTop exercises play an essential role in organizational preparedness for responding to cybersecurity incidents.
How to use the results of your TableTops to develop and prioritize a cybersecurity plan
Who Should Attend?
Organizational leaders, Financial Officers, IT Directors, and Managers who are concerned about the potential impact of cybercrime on their organization. Today's organizations are far more exposed than most realize. Every day cybercrime incidents have the potential to cost millions and harm organizational reputation. Preparation is one of the best (and only) forms of mitigation.
A Quality IT Provider
RoundTable provides a solution-focused approach to IT. In addition to being a quality IT provider, RoundTable provides training to our staff on areas such as cybersecurity awareness, project management and more.
— Alex Havriliak, Chief Financial Officer, Habitat for Humanity
I Learned So Much From RoundTable's Cybersecurity Webinar
I was a phishing victim last year and it did not feel good at all. This training helped me feel more empowered, more confident in spotting (phishy) situations, and ready to navigate the digital landscape with safety and security.
— Anonymous
Exceeded Expectations
Our cybersecurity awareness assessment project exceeded expectations. Joshua was super knowledgeable, understood our issue areas and the risks and constraints we face.
— Teresa Huang, Operations Manager, Represent Us
Register By Completing The Form Below:
Important! We hate spam as much (or more!) than you and promise to NEVER rent, share, or abuse your e-mail address and contact information in any way.
Meet Your Presenter:
Joshua Peskay

"Joshua Peskay is the Vice President of Technology Strategy at RoundTable Technology and an accomplished technology leader with more than two decades of experience leading technology change for over a thousand New York City nonprofit organizations....read more"
Destiny Bowers

"Destiny Bowers is RoundTable's Director of Cloud Solutions. If your organization looking to go Google, bounce to Box, move to Microsoft or dabble in Dropbox, Destiny is our expert. She can help you navigate your path to the cloud: from planning to migration to training and optimization....read more"