Cybersecurity Services
Until now, cybersecurity has been complicated and expensive. Our cybersecurity service changes the game, making cybersecurity simple, manageable, and affordable. Online, all the time, the All-in-One cybersecurity service, Defendify by RoundTable, helps Nonprofit and Small Business Superheroes detect, protect, and defend.
See your cybersecurity data at a glance: health grade, alerts, reports, recommendations, products and services, users, devices, and more. Easy to access, easy to understand. Online, all the time.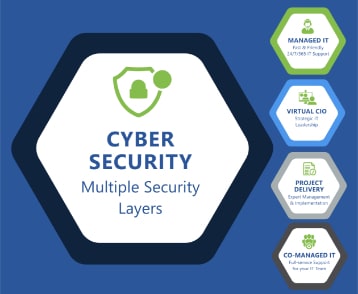 ---

What is Defendify?
Multiple Layers of Cyber Security
One layer just isn't enough. Everything we do is centered around 3 key layers of cybersecurity:
Cyber-Solid Foundation of policies, procedures, and plans.
Cyber-Smart Culture of employee awareness and institutional knowledge.
Cyber-Strong Technology that goes beyond traditional antivirus and firewalls.
---
Here is what some Defendify customers have to say:
I can sleep a little better at night knowing our company is doing everything it can to protect itself.
Owner
Atlantic Coast Title
I can see the immense value in the layered approach. So simple, it just makes sense.
Pat Coughlin
Accounting Manager
Extec
As the sole person with a dedicated IT role in my workplace, Defendify is an invaluable tool in helping me assess and maintain an appropriate cybersecurity posture for my organization. I have access to vastly more knowledge on our current state and I can easily track our progress on our cybersecurity ...Read More
IT Associate
Writopia Lab
---