Computer Networking
In today's world, a fast, reliable and secure computer network is a requirement. Virtually everything you do at work, from email to documents to voice and video and printing relies on your network.
RoundTable Managed Networking brings peace of mind knowing that your network backbone, firewall, switches and wireless access points are all being monitored around the clock. Managed networking provides continuous monitoring, maintenance and management of your critical network infrastructure to ensure your network is fast, reliable and secure.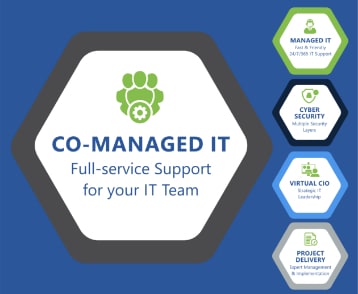 Monitor, Manage, Maintain...
Monitor: Our automated monitoring tools provide 24x7 visibility into your network performance. With advanced monitoring, alerting and reporting we are able to quickly identify any issues that arise in your environment.
Maintain: Networking equipment requires routine updates and maintenance in order to perform optimally and stay secure. Managed Networking ensures your networking infrastructure stays up to date with the latest software releases.
Manage: Our senior engineering team will be responsible for the change management of your network equipment to ensure the devices remain secure and documentation is kept up to date when changes are made.
Managed Networking
Hardware as a Service - Firewall, Switches & AP's included
24x7 Monitoring of Firewalls, Routers, Switches & Wireless Access Points
Support & Troubleshooting of supported Network Infrastructure Devices During Business Hours
Installation of Firmware Updates & Security Patches
Maintenance & Changes to Network Infrastructure (rules & configurations) During Business Hours
Documentation and Password Management of Network Infrastructure Devices
Lifecycle Maintenance, Warranty & Support Renewals
After Hours Support (Billable, 2 hr minimum)