vCIO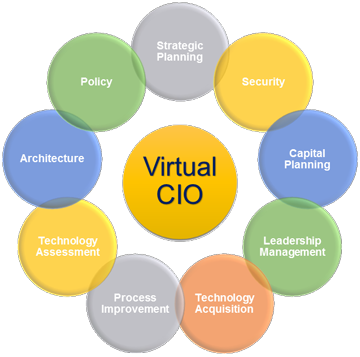 RoundTable offers vCIO (Virtual Chief Information Officer) to our clients. Small to medium sized organizations and businesses need the same technology advice and planning as large enterprises, but may not have the resources for a full-time executive on their team. RoundTable's vCIO service will provide the technical guidance that you need to align your technology initiatives with your business objectives. Our team has decades of combined experience in the following areas:
Technology Planning
Project Management
IT Budgeting
IT Road Mapping
Cloud Services
Cybersecurity
Strategic Assessments
Disaster Recovery and Business Continuity Planning
Vendor Management
Our vCIO offering provides you with the ongoing strategic IT guidance you need at an affordable price. Your assigned vCIO becomes an integral part of your team and would sit in on executive and/or board meetings as needed to remain closely connected to your organization's objectives. Our goal is to help you navigate the ever changing landscape of technology allowing you to focus on your mission.