Best Free 1-Hour Cybersecurity Training Ever - 2021 Edition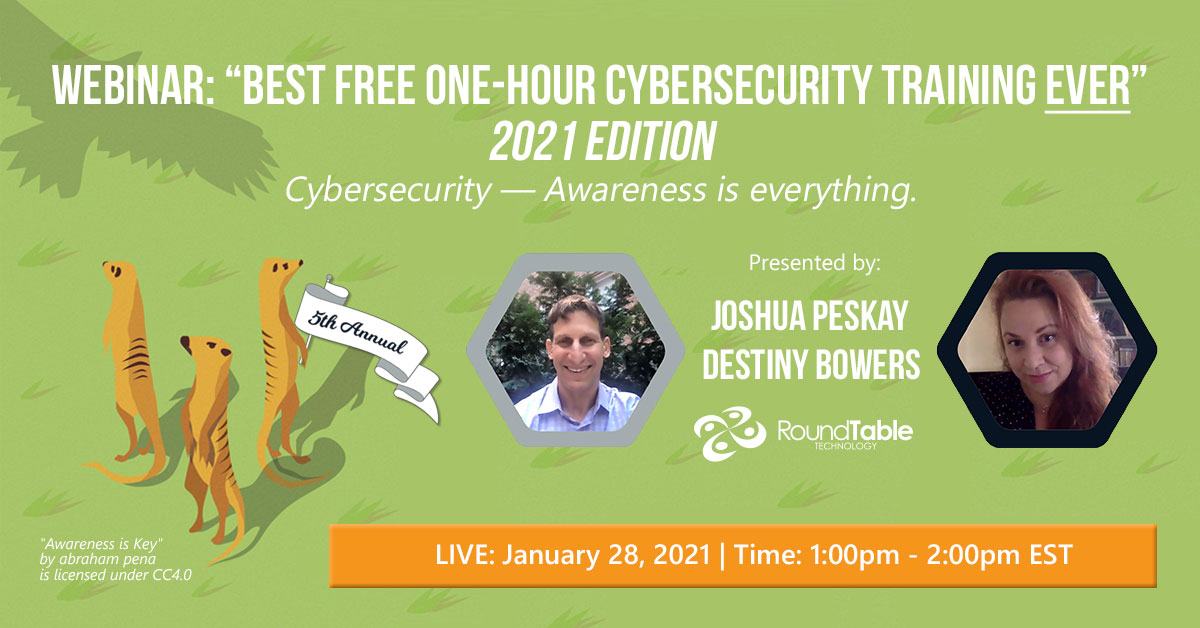 "Abraham Pena" is licensed under CC4.0
Webinar Details:
LIVE: January 28, 2021
Start Time: 1:00pm - 2:00pm EST
The BAD news is that for many people and organizations, cybersecurity seems scary and overwhelming.
The GOOD news is that there are some basic things you can do to make yourself and your organization much more secure.
The GREAT news is that, for the fifth year in a row, RoundTable Technology is offering a free webinar to teach you and your staff exactly what you can do.
Invite your colleagues to attend - the more the merrier! Make it your New Year's resolution to get your entire staff FREE cybersecurity awareness training. Book your conference room, save the date and have good time with us for the fifth annual Best Free One-Hour Cybersecurity Awareness Training Ever.
And if you need a little incentive for your staff, we'll be giving out over $200 in prizes throughout the webinar! Anyone attending, whether by themselves or in a conference room full of people, will have chances to win prizes!
Among the topics we'll be covering are:
Security Culture
Social Engineering
Phishing
Cloud Services
Personal Devices (BYOD)
Work from Home
New and Emerging Threats
If you can't attend the webinar but want to watch it, no problem! Register anyway and you'll get a link to the recording emailed to you within a day or two following the webinar. Do be aware that ONLY LIVE attendees will be eligible to win the cash prizes.
Who Should Attend?
Everyone! That includes organizational leaders, IT staff, managers, staff, interns and volunteers. Anyone who uses your organization's technology should attend. Today's organizations are far more exposed than most realize. Every day cybercrime incidents have the potential to cost millions and harm organizational reputation. Preparation is one of the best (and only) forms of mitigation.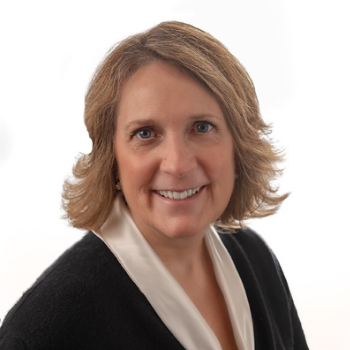 I've never been more engaged in learning by a remote facilitator than I was yesterday.
The true test of a quality training is when the learner is motivated to change their behavior and I can't wait to get going on changing more of my passwords. I have a heightened awareness on phishing and I'm scared (in a good way) and aware of how vulnerable KMA and I personally can be because of your training, Joshua. Awesome job!
Kristen Kellner
SHRM-SCP, HR Consultant/Chief Learning Officer
KMA Human Resources Consulting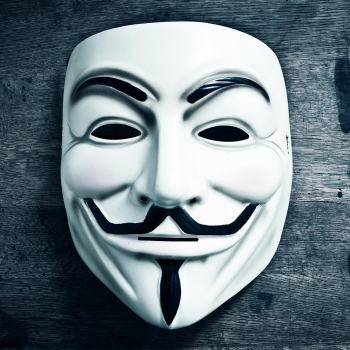 I learned so much from RoundTable's cybersecurity webinar.
I was a phishing victim last year and it did not feel good at all. This training helped me feel more empowered, more confident in spotting (phishy) situations, and ready to navigate the digital landscape with safety and security.
Anonymous
Register By Completing The Form Below:
Important! We hate spam as much (or more!) than you and promise to NEVER rent, share, or abuse your e-mail address and contact information in any way.
Meet Your Presenters: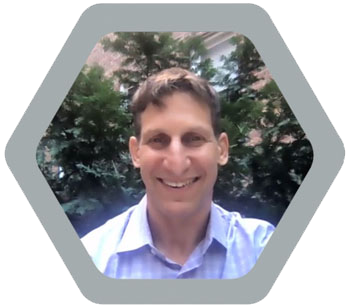 Joshua Peskay - Professional Services vCIO / vCISO is the Vice President of Technology Strategy at RoundTable Technology and an accomplished technology leader with more than two decades of experience leading technology change for over a thousand New York City nonprofit organizations....more"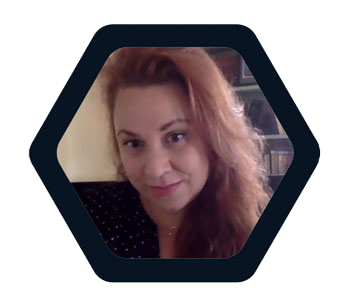 Destiny Bowers - Professional Services Cloud / vCISO is RoundTable's Director of Cloud Solutions. If your organization looking to go Google, bounce to Box, move to Microsoft or dabble in Dropbox, Destiny is our expert....more"