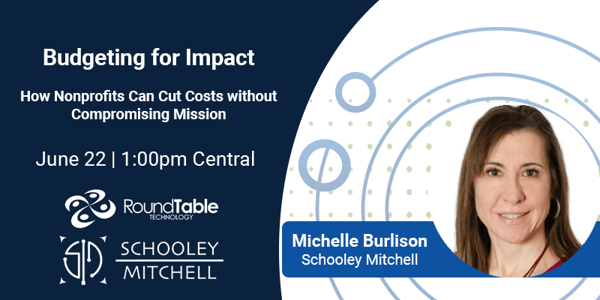 Budgeting for Impact
How Nonprofits Can Cut Costs without Compromising Mission
What it's all about
Join RoundTable Technology and Michelle Burlison, a renowned expert from Schooley Mitchell, for an enlightening webinar on "Budgeting for Impact: How Nonprofits Can Cut Costs without Compromising Mission."

Nonprofit organizations often face the challenge of delivering maximum impact with limited resources. In today's uncertain economic landscape, it is more crucial than ever to explore strategies for optimizing budgets while staying true to the organization's mission.

During this webinar, Michelle Burlison will share her extensive knowledge and practical insights gained from years of experience working with nonprofits. She will guide you through the process of identifying areas where costs can be trimmed without sacrificing the core values and objectives of your organization.

Key topics that will be covered include:

Understanding the unique budgetary challenges faced by nonprofits and how to navigate them effectively.
Identifying cost-saving opportunities through process optimization and resource allocation.
Leveraging technology to streamline operations and reduce expenses.
Evaluating and negotiating vendor contracts to secure the best value for your organization.
Strategies for engaging stakeholders in the budgeting process and aligning financial decisions with your mission.
Whether you are a nonprofit executive, board member, or finance professional, this webinar will provide you with actionable strategies to enhance your organization's financial sustainability. By implementing the insights shared in this session, you will be equipped to make informed budgeting decisions that maximize impact and drive positive change.

Don't miss this opportunity to learn from an expert and gain practical tips on budgeting for impact. Register now and join us on June 22nd, 2023 to unlock the potential for financial efficiency within your nonprofit organization.