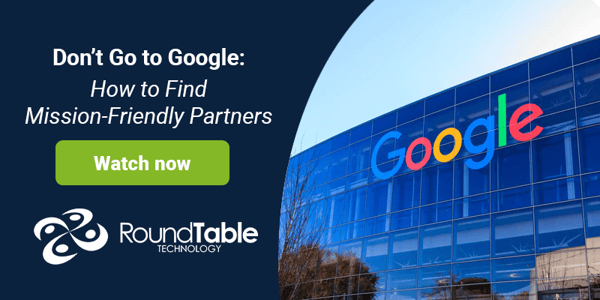 Don't Go to Google
How to Find Mission-Friendly Partners
What it's all about


Are you tired of sifting through countless Google search results in pursuit of the perfect partner for your nonprofit organization? Struggling to find vendors and collaborators who truly align with your mission's values and objectives? Look no further!

RoundTable Technology proudly presents a dynamic and informative webinar, "Don't Go to Google: How to Find Mission Friendly Partners," specially designed for nonprofit organizations. Join us on August 10th at 1:00 PM Central Time for a panel-style session featuring experts from both nonprofit organizations and mission-friendly vendors.

Key Webinar Takeaways:

Mastering the Art of Mission-Aligned Partner Search: Learn effective strategies and best practices for seeking out partners who share your nonprofit's vision and are dedicated to advancing your cause.

Streamlining Your Partner Selection Process: Discover tools and methodologies to streamline the partner selection process, saving you time and energy while ensuring optimal matches.

Navigating the Challenges: Hear firsthand experiences from seasoned professionals who have successfully forged partnerships with mission-friendly vendors, and gain valuable insights into overcoming potential challenges along the way.

Cultivating Long-Term Relationships: Learn how to foster strong, mutually beneficial relationships with partners that will support your organization's mission for years to come.
Our panel of experts will delve into the nuances of identifying and engaging with mission-friendly partners, providing you with actionable strategies to enhance your nonprofit's impact. Whether you're seeking technology solutions, corporate sponsors, or collaborative allies, this webinar will equip you with the tools you need to make informed, mission-driven decisions.
Don't miss this exclusive opportunity to gain invaluable insights and network with like-minded professionals in the nonprofit sector. Reserve your spot today for "Don't Go to Google".
Panelists for this session included: